Unlimited Updates
Change anything, whenever.
Have a question?
We're here to help.
At Inventis Website Design we do things different.
Not only do we provide a Bespoke Website Design, with Zero Upfront Costs with Everything Included we also provide Unlimited Updates…
What are updates?
There are two types of updates which we provide; Updates to the content on your website which the user views, and also updates in the back end of your website ensuring your website is secure and up-to-date with the latest security and technologies.
With other Website Design Companies you can have a website designed, and within a short matter of time it is out of date or irrelevant. The extreme side to this is that every few years you will have to then have another website developed. With Inventis your website is continuously evolving and changing with the times.
What would you update for your Customer?
Opening Times, Promotions, Menus, Offers, Prices, Holiday Messages, Latest Work, Staff Changes…. the list is endless.
Benefits of Security Updates
Keeping your website updated is absolutely essential in keeping your website secure. At Inventis Website Design, we take care of all updates so you never have to worry about software or plugins that could become vulnerable or insecure from being outdated.
As security is so important for your website, we ensure your website is fully up-to-date, GDPR friendly and secure with a SSL Certificate that is included free with our website packages, keeping your website safe, customers happy and trusted by search engines.
Staff Recruitment
Staff Recruitment have been our Customer since 2015. Originally starting off as Staff Oldham we have redesigned there website on numerous occasions including a complete Re-brand from Staff Oldham where he helped secure a new domain, moving all traffic from their old domain using a 301 redirect ensuring their SEO and domain authority wasn't lost.
We regularly brand their website for seasonal changes, for example Hearts on Valentines Day, Poppies for Remembrance Day, Ghoulish figures for Halloween and Snow etc for a Christmas Feel. We also update their latest jobs and remove old jobs from their website on a daily basis.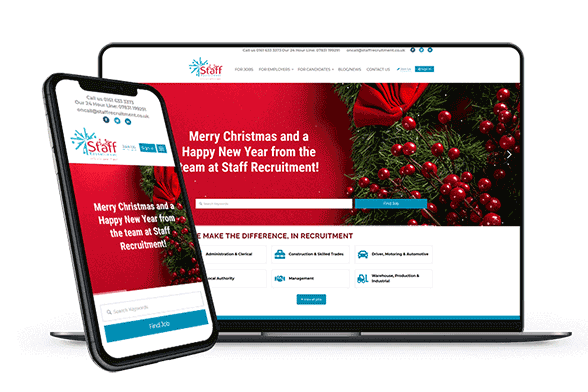 We have worked with Adam and his team since last year, I don't know how they have any other clients as we are very demanding! Their service is fantastic, I couldn't ask much more from them, and even if we did I am sure they would deliver! HIGHLY Recommended!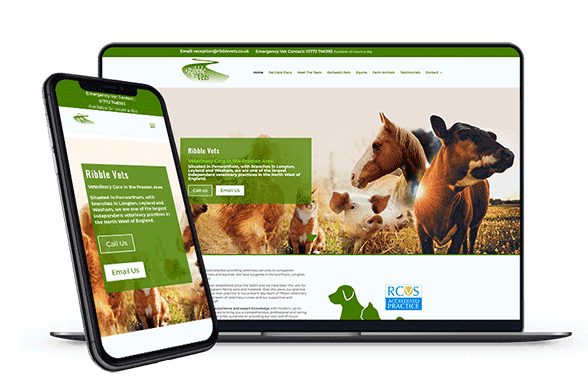 We have used Inventis Website Design for 2 years and would not hesitate to recommend them to other businesses. The initial set up was very simple, resulting in a professional and informative website that required minimal tweaking. Updates to the website are simple – a short e-mail request and the team will make the changes.
Ribble Vets
Ribble Vets have branches across Lancashire in Longton, Wesham, Penwortham and Leyland and have used our services since 2018. They originally had an old website that had become to look outdated, was unresponsive so visitors couldn't view their information on modern devices and had a lot of information that was incorrect due to the inability to update their information.
We completely rebuilt their website from scratch to a new modern mobile responsive website. We regularly update their website with their latest information; adding job vacancies, new members of staff to their ever increasing team, changing prices of their prices and plans, opening times, seasonal decorations etc. The Complete Website Package…